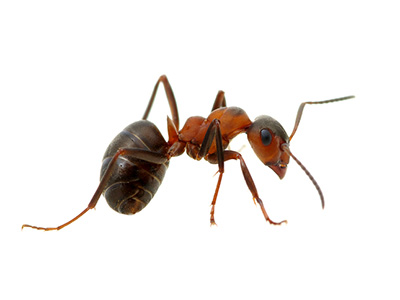 With the recent change in the weather, we've been invaded by ants. They're coming in through a gap under the molding in an exterior wall and wandering all over.
They've found their way to the kitchen, where they've crossed under our dishwasher and up over the stove. They've headed down our back hallway to the boys' bathroom. And they've even begun exploring our laundry room. Yes, I could block them out, but…
I'd rather they not hang out in the walls and find another way in. Thus, I've decided to eradicate them. While I could use a commercial pesticide or buy ant baits, I've always taken a much simpler — and less toxic — approach to killing ants.
Getting rid of ants
In short, I mix a small amount of boric acid powder (available at Amazon or most local drug stores) with a roughly equal amount of sugar. This isn't rocket science, so you can eyeball it. Anything close is more than enough to attract and kill ants.
Next, you'll need a small container. I like to use the cap of a milk jug, though something like the lid from a 2 liter bottle would work, too.
Fill the lid about halfway with your boric acid/sugar mix and then dribble some water into it and mix with a toothpick to make a thick slurry. If it's too watery, you can pour off a bit of liquid and/or add some powder to the mix.
Now just place one or more of these homemade baits along the foraging path(s) that inevitably develop when ants show up. The closer you can get this to the source the better. But anywhere along a foraging trail should work.
And then… Wait. It may take some time for the ants to discover your delicious-but-deadly concoction. But once they do, word will spread and you'll soon have a ton of ants feeding on your homemade bait.
If they don't show much interest right away, that's okay. I've found that they often don't really get going until after dark. Good things come to those who wait… 😉
Why boric acid works
As it turns out, boric acid kills ants, but it doesn't kill them right away. And the sugar is enough to draw them in for a feast. Thus, they'll fill their proverbial bellies and then take their deadly treat back to the nest with them.
Note: Sugar has always worked great for us, but if you can't seem to get them interested, try mixing the boric acid with peanut butter. Some ants prefer sweets, others prefer fats and grease — it may even vary seasonally.
Keep in mind that it's important to let the boric acid do the hard work. Thus, you need to resist the temptation to start squashing ants when they show up to feed. If you let them live, they'll go home and wipe out the entire colony.
In my experience, the entire process takes a day or two. Stubborn infestations might take a little longer. Regardless, this approach is astonishingly effective. And yes, having raised four young boys, we've had our fair share of ant infestations.
As for safety…
Boric acid isn't particularly toxic to people. In fact, it's commonly used as an antiseptic for minor cuts and burns or, in low concentrations, as an eye rinse. Still, I would be careful to keep young children and pets away from your baits.
Also, I've heard that similar approaches are effective for cockroaches, though I don't have any firsthand experience with that. If you have any other diy pest control tips to share, please don't hesitate to leave a comment.
---